TheraSauna TS7554 Four Person Opposite Facing Infrared Health Sauna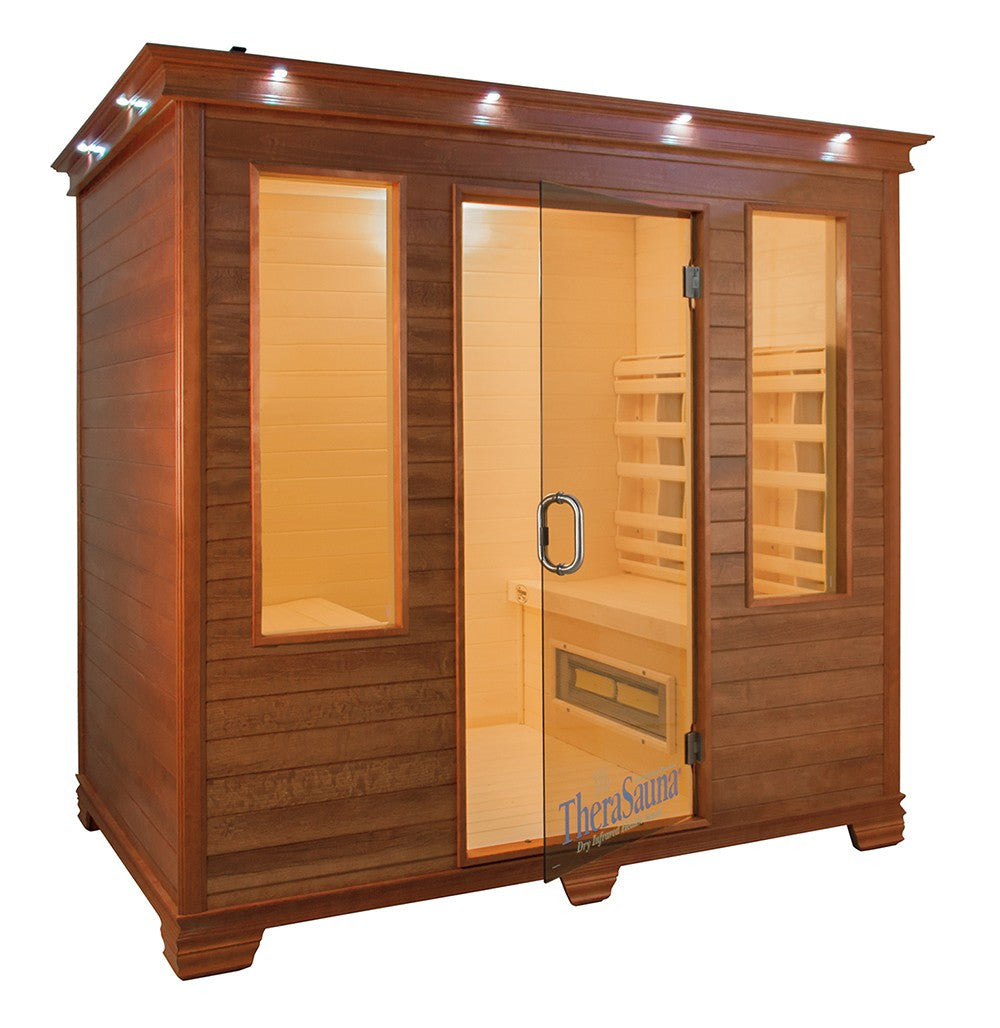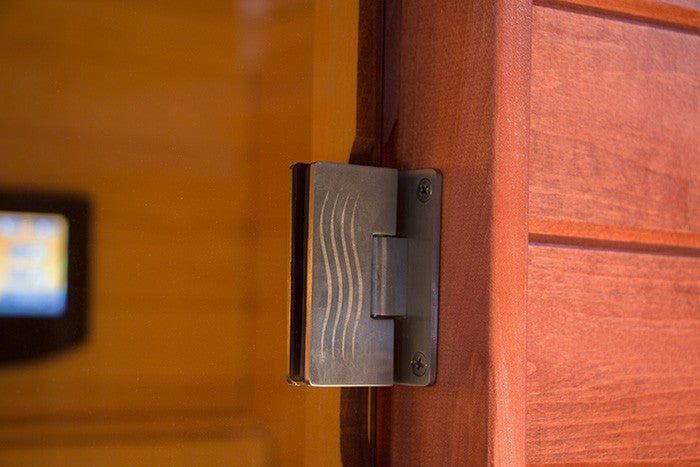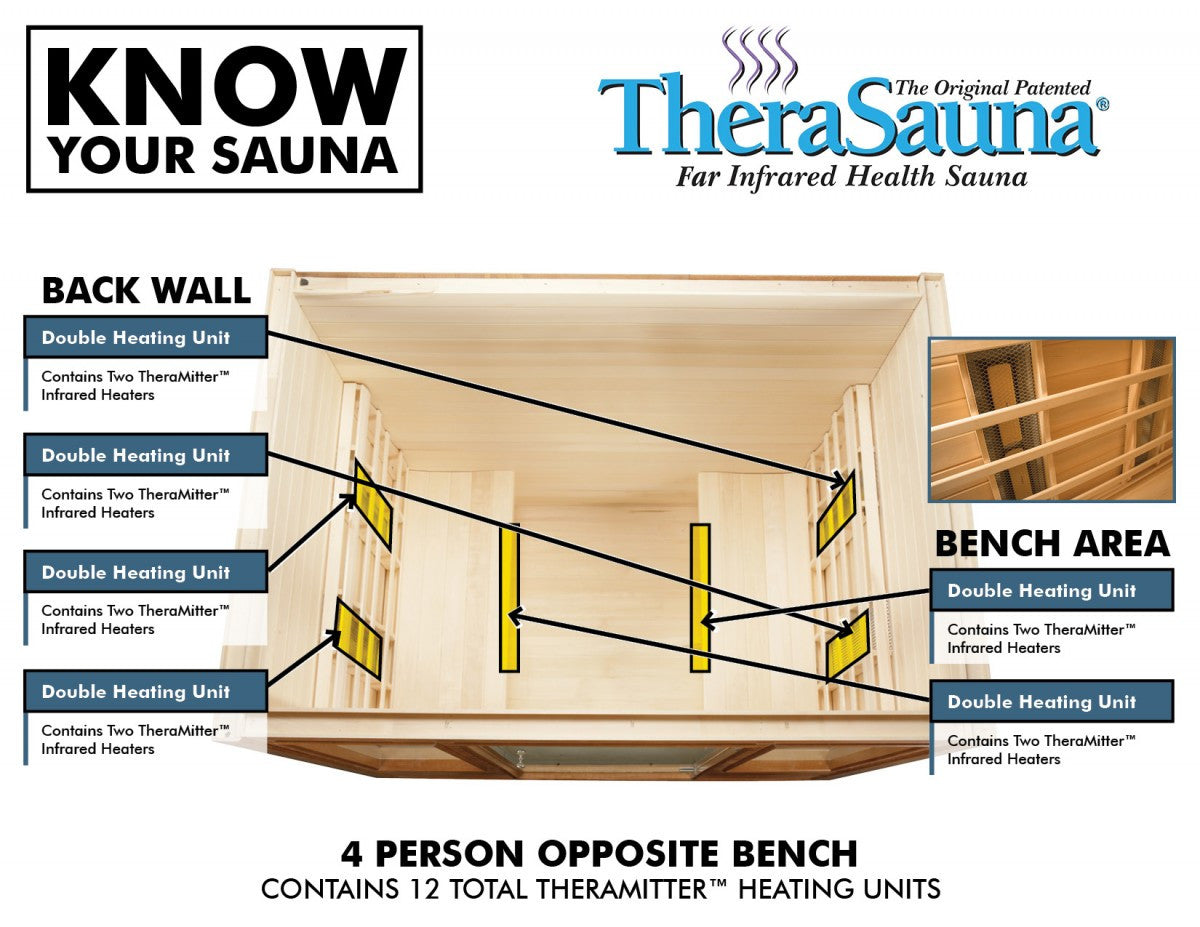 The only FAR infrared sauna in the world with a patented on-board computer system for constant infrared emission. TheraSauna® uses proprietary, high glass-content, solid-ceramic 

TheraMitters™

 at the proper watt/density for deep body penetration to induce profuse sweating and thereby detoxifying the human body. Solid ceramic heaters have a 96% radiant efficiency rating. Therasauna is made in the U.S.A. with the patented control system that allows for complete control and the ability to consitently reach the desired far-infrared micron level of 9.4.

Our patented StableHeat™ technology

 helps create the most constant and beneficial levels of far infrared

TheraSauna® is the only company to use aspen hardwood

, which is non-toxic and non-allergenic

Our saunas utilize high glass content solid ceramic TheraMitters™

 that meet or exceed manufacturer specifications to provide the best and most beneficial levels of infrared
Micron Power Select™ allows you to vary the infrared output from each TheraMitter™ zone and control the infrared micron range during your sauna session
TheraSauna® meets the electrical requirements to be ETL

 and CE certified in the US, Canada, and Europe.

TheraSauna® emits very low levels of EMF

, compared to the high levels of EMF produced by saunas using less efficient carbon fiber materials and rod TheraMitters™.
TheraSauna®'s parent company, 

QCA Spas, is the only certified American manufacturer of far infrared saunas and

 has been 

in business since 1966

Leading Innovator In Far Infrared Therapy

TheraSauna® was pioneered by QCA Spas, which has been recognized as one of the oldest spa companies in America. QCA Spas has been an innovator of patented spa therapy to relieve pain and stiffness and promote healthier lifestyles. Those same philosophies are incorporated into our TheraSauna® Infrared Health Saunas. In 1995, TheraSauna® received its first patent for the Stable Heat™ System. Today, TheraSauna® holds several patents and patents-pending on our MPS Infrared Control System™. TheraSauna® has been tested and approved by ETL in the US and Canada (Look for us under our company name, Quad Cities Automatic Pools, Inc.). TheraSauna® has applied for registration with the Food and Drug Administration under Infrared Health devices.

Quality is important to us, which is why our saunas are handcrafted in the USA. We are one of the only infrared sauna manufacturers in the United States that do not import our saunas from international suppliers. Our manufacturing plant is located in Dewitt, Iowa.

Our Mission

To stay "A Step Ahead", QCA Spas, Inc. believes in ongoing research and design to develop the most innovative infrared dry saunas and hydrotherapy performance spas on the market today. Our customer's personal satisfaction is, and will always be, our number one concern.

Our Location

QCA Spas, Inc. corporate headquarters are located in Bettendorf, Iowa. We also have manufacturing warehouse facilities in Dewitt, IA as well as warehouses located in Wisconsin and Europe to distribute our products globally.